When scheduling appointments with prospects or customers, you want them to revolve around a certain topic. Each possible topic can be linked to a certain service, expertise or product your company offers. At Skedify we define these topics as subjects. 
Each subject may require a particular skillset from your employee. Depending on the subject, you might want to reserve more or less time. To manage your subjects in an easy, organized way and allow combined analytics, subjects are grouped into categories (e.g. category 'loan' and subjects 'housing loan' and 'car loan').
Adding Categories and subjects
Subjects and categories can be added easily.
To start adding subjects, you need categories to which the subject belongs.
How to add categories: 
Go to Company > Subjects
In the upper right corner click on 'Add Category'
Give your new category a name
With every new category you can also choose to add a color tag to the concerning category
Click 'Save' to create your new category.
How to add subjects:
Go to Company > Subjects
Click the '+' button in the upper left corner and 'Add a new subject'
Fill in the details
'Save' or 'Continue creating' to create the subject.
Auto accept
Appointments about this subject will be accepted without manual approval from the employee.
On subject shortlist
The topic will be publicly available through the website plugin to be selected by the customer when they haven't selected a topic yet.
Duration 
In this field you can set the expected duration for an appointment regarding the subject you're creating.
Description
This field allows you to give a short description about the topic. This description will be displayed to the customer when he/she wants to make an appointment regarding the specific subject.
Save or Continue creating
If you want to add multiple subjects, simply click 'Continue creating'. This will save the currect subject, while creating a screen to add a new subject.
Assigning appointment subjects to users
Every employee has his/her own expertise (subjects) that he/she is responsible for. Linking one or more subjects with an employee can be done easily. For more information on assigning subjects, click here.
Asking specific questions to the customer during the appointment process
For every appointment, specific questions can be asked to the customer. These questions serve to get a better grasp of the customer's needs. Therefore it helps you to optimize the personalization and preparation process before the appointment takes place. This gives you the possibility to analyze the answers to build business intelligence around your services and products.
You can completely customize the questions asked during the appointment process with the dynamic formbuilder. For more information on the formbuilder, click here.
Deleting a subject
Subjects can be deleted separately within categories.
Be aware of the fact that a subject can be linked to an employee's expertise and (scheduled) appointments. Deleting them will delete this linked data.
Make sure that you know exactly which subjects you want to delete.
How to delete a subject:
Go to Company > Subjects
In this overview you can right click on the subject
Select 'Delete subject'
Confirm that you want to remove the subject by clicking on 'Delete'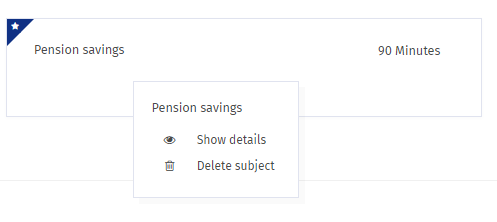 What happens when I delete a category?
Deleting a category can be done very easily, but beware: this will delete all of the subjects within that category.
This means that subjects assigned to users and appointments will be deleted too. So make sure to move the subjects to another category before deleting the category they are currently in. 
How to delete a category:
Go to Company > Subjects
Click on the 'x' button next to the category
Choose whether you want to delete the subjects or move the subjects to an other category.